If you can afford the trip, then the Venice Simplon-Orient-Express is one of the best ways to experience the aura of Europe. It is a great way to spend a romantic and luxurious time with your loved one on a train that runs from London or Paris to Venice. The train carries the resemblance of the vintage and unique European style carriages. You can find all the modern amenities that you can expect. Unlike many other expensive experiences in Europe, this is very different.
We are sure that you are going to have the best time of your life on this train journey. If you have never heard about the Venice Simplon-Orient-Express, then today we will discuss all the important details about it.
What is the Venice Simplon-Orient-Express?
The famous Venice Simplon-Orient-Express is a privately-run train that has been restored from the coaches found in the 1920s, 30s and 50s. It is now a 5-star luxury train that runs between London, Verona, Paris and Venice. The train runs once every week from the month of March to November. The trip from London to Venice takes 24 hours and costs over £2,600 per person one way, including meals. These are actually two trains, the historic British Pullman train from London to Folkestone and the classic 1920s sleeper continental train from Calais to Venice.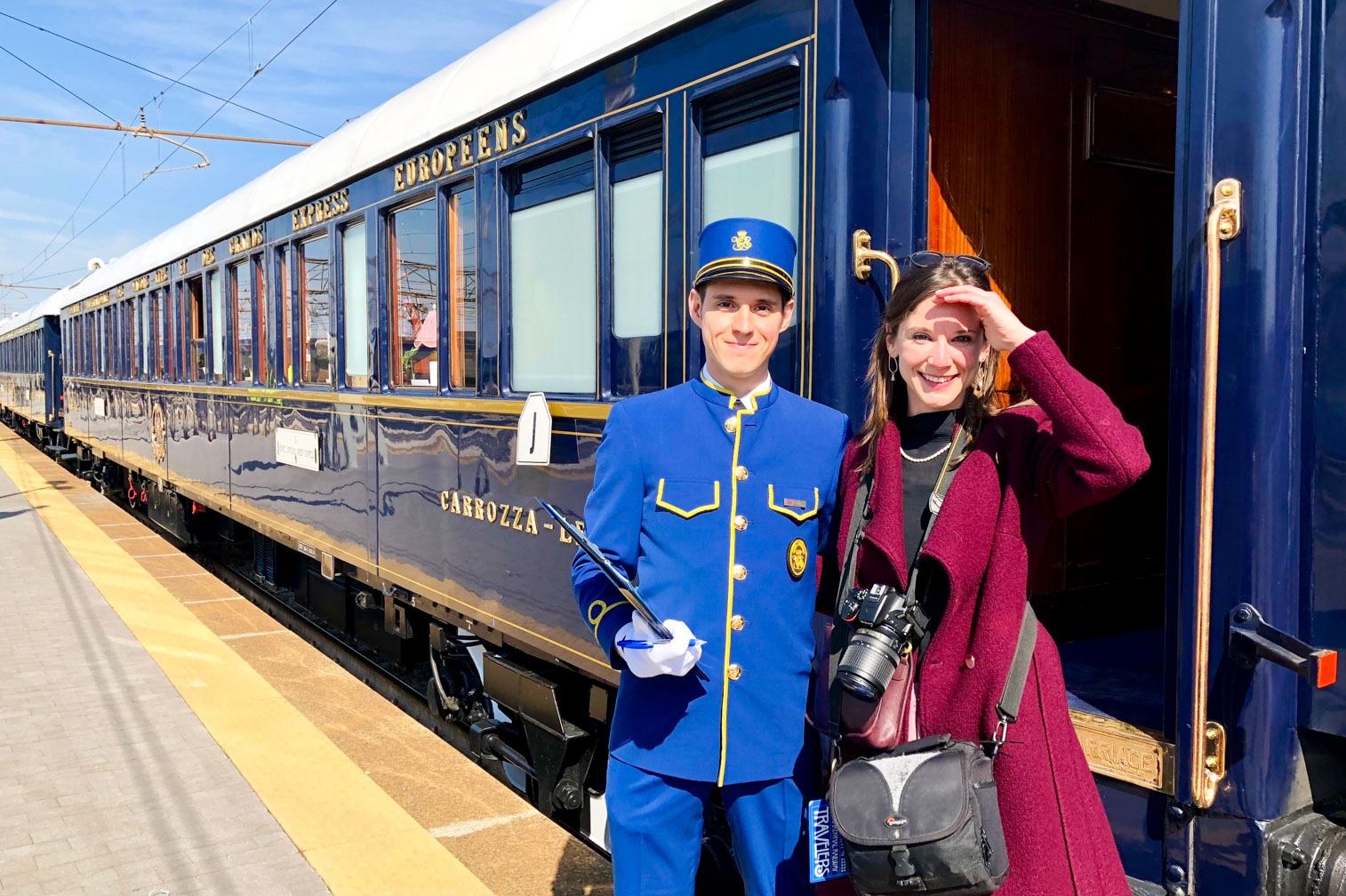 The Venice Simplon-Orient-Express makes occasional trips to Rome, Krakow, Budapest, Stockholm, and even Istanbul once a year in August. This train is a true definition of beauty and how old things can be brought back to life. With many things to do onboard, you won't run out of any kind of fun activities. The prices for the tickets are the same for both solo and duo passengers. But, children below the age of 12 get a 20% reduction on ticket prices.
Travel Tips on Venice Simplon-Orient-Express
The Venice Simplon-Orient-Express is a great experience for every traveler that sits on board. Check out these few travel tips that you should keep in mind when you board the express –
Choose your own coach – before booking, read a brief history of each unique and individual Pullman car. Ask for the car that fascinates you the most. Personally, Ibis is the best when it comes to aesthetic interiors and upholstery, but Winston Churchill fans may like Perseus and so on. Each one of them has their own set of benefits and advantages that you can enjoy when traveling in that coach. If you are in dire need of privacy, then you must definitely ask for the Pullman Car.
Make sure to dress well – do carry at least a dark suit and tie for dinner on the VSOE Continental train, but many travelers switch to bow ties for dinner. In fact, you may feel terrible wearing just a suit since other passengers may dress quite extraordinarily. Quite a few travelers can be seen dressed in the 1920s or 1930s style, if you do so you won't feel out of place. The daytime dress code is smart and comfortable.
Do explore the train – don't just sit in your coach and stare out of the windows throughout the day. There are a lot of things that can be done here. After a meal at Pullman, take your camera and explore the train to admire the different decorations on each wagon. You'll be surprised to see how the entire train has been decorated and offers a wonderful vibe of the '20s.
Eat your favorite dishes – ask for your favorite restaurant for dinner or lunch on board. The VSOE Continental Train has three restaurants, each with unique dishes to offer. Maître d'Hôtel makes a dinner reservation, so don't forget that. Feel free to request a table at your favorite restaurant and eat your favorite dishes. You can try the Cote d'Azur restaurant with beautiful laric glass panels. So, keep experimenting.
Here are the best travel tips that you can follow and have a great time on this luxury train.
Best Places You Can Visit After The Journey
Here is a list of all the top places you can visit after you have finished the journey –
Venice: a unique city that has no roads but waterways, Venice is one of the most beautiful cities here. Take a ride on the Gondolas and check out the 18th century museums and galleries. Book your stay at the best hotels in Venice by visiting this website now sonema.host/listing/casa-navagero-mansarda-con-vista/.
Budapest: The Matthias Church and Trinity Square are some of the best attractions in Budapest. A gorgeous European city that is bustling with amazing nightlife and rich history, you can't miss out on Budapest by any means. Visit this website now sonema.host/country/hungary/ to book the top rated hotels in Budapest.
Turkey: a city that was established a very long time ago, Turkey is a city that won't disappoint you. Visit the Grand Bazaar, The Blue Mosque and Hagia Sophia to witness the best of this mind blowing city. Visit this site sonema.host/country/turkey/ and book your favorite hotels in Turkey.
France: France is definitely one of the most visited countries in Europe and it is not only because of Paris or the Eiffel Tower. France has a lot more to offer like Pérouges, St-Émilion, and St-Jean Pied de Port. Witness the Alps and other coastal villages as well. Visit sonema.host/country/france/ and book the best hotels in France now.
London: a great city that needs no introduction, London is a favorite destination for anyone visiting Europe. You can visit the Big Ben, London Eye and Buckingham Palace to check out the true heritage & culture of England. Visit this website right now sonema.host/experience/historic-walking-tour-in-london-2/ to book a wonderful walking tour in London.
Let us know which one of these places in Europe you plan to visit on your next trip. Make sure to book your tickets for the Venice Simplon-Orient-Express as well.